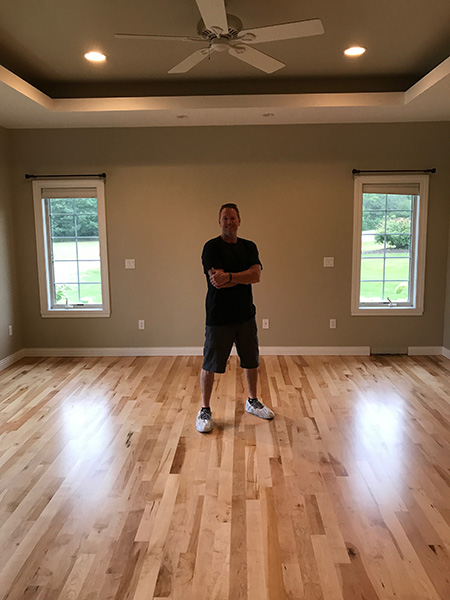 At Green Bay Floor Restore, we provide residential and commercial customers with an elegant wood floor refinish without the mess or hassle. We follow the National Wood Flooring Association Sanding & Finishing Guidelines for each residential or commercial customer we serve. After the job is complete, we provide hardwood floor care instructions to maintain the beauty and longevity of the floor for years to come.
Your floor is a candidate for refinishing if you want to:
Remove scratches, stains, or scrapes
Bring out the beauty of the wood grain
Change the color of the floor
Bring a sheen to a dull floor
Protect your floor with a commercial grade ceramic-fortified floor finish
Refinishing a floor is a multi-step process that typically spans several days. During your free consultation we will map out a schedule of when the floor will be open to traffic.  In general, 4-6 hours after the final finish is applied the floor will be ready for light usage. The floor will be ready for furniture and full use after 24 hours when we use Arboritec commercial grade floor finish.
Some hardwood floors only require buffing and coating, which is less costly and time-consuming than a full refinish. Sometimes, hardwood floors simply need a thorough cleaning. At our free consultation we will discuss the best options for your hardwood floor.
At Green Bay Floor Restore, we have been cleaning, buffing, coating, and refinishing hardwood floors since 2010. We have the industry-leading tools, dust-containment systems, VOC compliant finishes – and most importantly – the expertise to bring you an elegant-looking hardwood floor.